Dentist Colorado Springs, CO
The brief descriptions below are designed to familiarize you with our staff's training, professional credentials and work experience.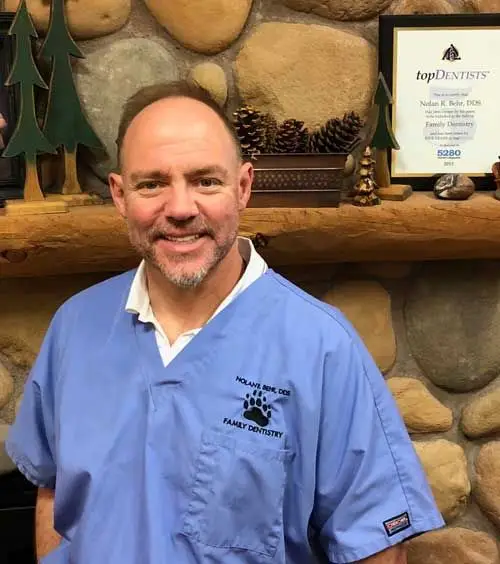 Dr. Behr was educated and trained at the University of Iowa , graduating from dental school in 1989. He practiced in Davenport, IA for just over a year, and moved to Colorado Springs in the fall of 1990. He participated in an Advanced Restorative Dentistry training program in Burlingame, CA from 1996-1998, and has incorporated these concepts into all aspects of his patient care. He has also taken training in surgical and restorative implant treatment, and with diode lasers. He is involved in several professional groups and stays updated on the latest dental techniques through continuing education. Dr. Behr strives to provide the best in dental treatment while caring for his patients in a comfortable, caring atmosphere.
Dr. Behr has been married to his wife, Jeannie for 30 years, and they have four children. He remains an avid Iowa Hawkeyes fan, and also a fan of the CU Buffs. He has spent many seasons coaching his children's sports teams such as football, baseball, and hockey. He loves to ski with family and friends and taught all of his kids to ski at a young age. He also enjoys biking, swimming, working out at the YMCA, volunteering at his church, and is an avid reader.
---
Danielle - Dental Assistant
Danielle was raised in the Midwest and moved to Colorado Springs in 1995. She and her husband have raised two daughters and have one grandson. She loves to travel, hike, read and spend time with friends and family.
Danielle has been assisting for over 20 years. She loves getting to know our patients and is great at making them feel comfortable in the dental chair.
Danielle strives to provide quality and compassionate dental care and is committed to the well-being of each patient.
---
Tanya - Dental Hygienist
Tanya has been a dental hygienist for ten years. She loves getting to know her patients and being able to help educate them about oral hygiene. Tanya is from Colorado Springs and loves enjoying the sun and all Colorado has to offer with her husband, two kids, and their big spoiled dog.
---
Jeannie - Accountant / Front Office
Jeannie has worked in the practice for over 25 years handling the accounting and working in the front office. She enjoys visiting with patients and building relationships with them.
Jeannie has been married to Dr. Behr since 1991 after they met in Davenport, Iowa. They have three sons and one daughter. She enjoys spending time with her family, daily walks with their puppy, Wrigley, hiking, skiing, biking, the Manitou Incline, CU football games, traveling, church activities, home projects, sewing, and crocheting.
---